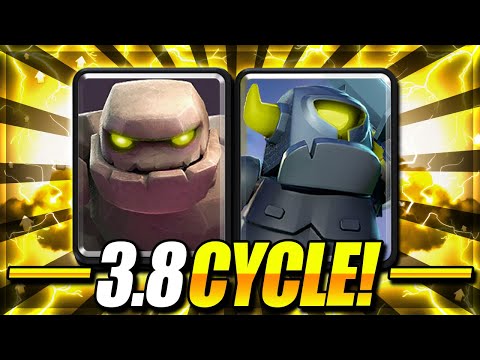 Download PUBG Mobile today using this link: https://pubgmobile.live/ClashWithShane and make sure to tune in for the Payload 2.0 Live Event on October 19th at 6pm pacific for some amazing PUBG MOBILE fun, games and of course, prizes! The live show will take place on October 19, 2020, 6pm PDT via the following official PUBG MOBILE channels:
https://www.youtube.com/PUBGMOBILE
https://www.twitch.tv/pubgmobile
https://www.facebook.com/PUBGMOBILE/
*Sponsored by PUBGMOBILE
Best Golem Deck in Clash Royale 2020 for Legendary Arena 13 Trophy Pushing on Ladder in 2020. Clash Royale Golem Deck with Mini Pekka Deck and Electro Spirit in Clash Royale.
❤️ Clash Royale Creator Code : "Shane"
📲 Clash Royale Deck Link: https://t.co/yLvfYMvtZP?amp=1
—————————————————————————
🔥 Become a Member: https://goo.gl/JXk8fw
🔔 Follow me on Twitter: https://goo.gl/Q3xvf3
🌐Join my Discord: https://discord.gg/NpJQmTR
✅ Follow me on Instagram: http://bit.ly/2kfop99
🎮 Follow me (Live Streams): TBD
——————————————————————————-
~ JOIN MY CLANS ~
Clash Royale Clan 1: CHILLwithSHANE
Clash Royale Clan 2: CLANwithSHANE
Clash of Clans: Nasty Sauce
Brawl Stars: BRAWLwithSHANE
——————————————————————————-
If you enjoyed the video, please like and subscribe. New Clash Royale Content every day!
Clash Royale || Clash Royal Gameplay & Strategy || Clash Royale Tips Tricks Guides || Clash Royale Best Deck
Thanks for watching! Have an awesome day!