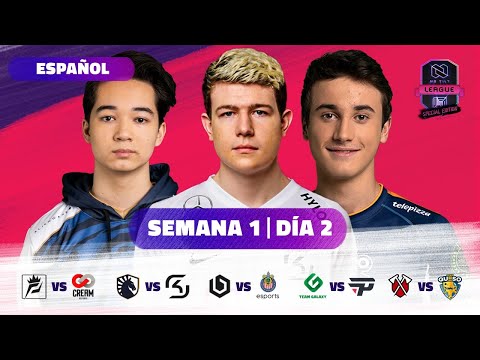 🇪🇸| La emoción no acaba en NT League Special Edition, tenemos más partidos que sintonizar este domingo. 😎
Team Purple vs Cream Esports
Team Liquid vs SK Gaming
Blast Off vs Chivas Esports
Team Galaxy vs Pain Gaming
Tribe Gaming vs Team Queso
Los mejores 10 equipos de Clash Royale se enfrentan cara a cara en un mes de increíbles batalla por un increíble premio. 😳🏆
Temporada Regular – 18 de Abril hasta el 9 de Mayo.
Finales – 10 de Mayo
¿Quien será el campeón de la No Tilt League Special Edition?
Si no quieres perderte nuestros fabulosos encuentros en vivo, subscribanse y activen las notificaciones. 🛎
Para disfrutar de las mejores competiciones nacionales e internacionales de los Esports.
Comparte la pasión con nosotros y disfruta del partido.
Y por supuesto nunca olvides dejar un buen like si te gusta lo que ves. 👍
Para estar informado de las últimos partidos, síguenos en nuestra redes:
Síguenos en Twitter:
Tweets by NoTiltGG
Síguenos en Instagram:
https://www.instagram.com/notiltgg/
Síguenos en Facebook:
https://m.facebook.com/profile.php?id=104138207854757&ref=content_filter…
Síguenos en Twitch:
(Próximamente)
🇬🇧| The 10 best Clash Royale teams will face each other in a one month battle for an amazing prizepool.
Regular season April 18th – May 9th.
Finals May 10th.
To become the champions of No Tilt League Special Edition.
👾 Don't forget to follow us!
– Twitter: https://twitter.com/NoTiltGG
– Instagram: https://www.instagram.com/notiltgg/
– Facebook: https://www.facebook.com/profile.php?id=104138207854757&ref=content_filter
– Twitch: (próximamente)
contacto@notilt.com
#NTLSE #ClashRoyale