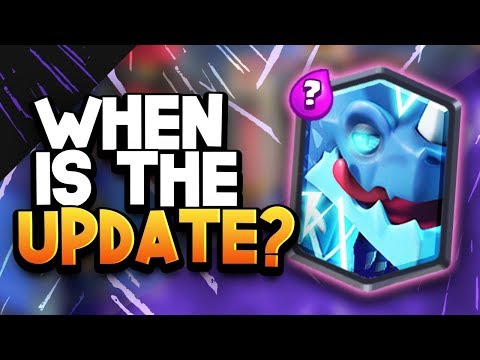 New Card & Update Coming in Clash Royale | CWA Mobile Gaming
Subscribe to Me: https://goo.gl/qFh722
Watch Next, #1 Global Deck LIVE, https://goo.gl/NMxCBA
The next Clash Royale update will be coming, but not this month. Today I'll share the timeline for the next major update in Clash Royale along with the new card. The new card should be coming very soon and may be one of Electro Dragon, Wolf Rider, or Wall Breaker. Which of the new card would you most like to see? I'll also share my thoughts on what I WANT the update to be, but to be fair we don't know much just yet. Enjoy the video!
*Join my discord community!*
►►www.discord.gg/cwamobilegaming
*Watch More*
►►Top 7 Broken/OP Cards of All Time – https://goo.gl/Q5oYss
►►Ranking all 40 emotes! – https://goo.gl/MrHhph
►►10 Cards That Level Doesn't Matter – https://goo.gl/oH2ZPC
I'm Proud to be a community partner with Bren Chong!
►► Instagram – https://goo.gl/jEcVu1
►► Twitter – https://goo.gl/c1u5V8
►►Check out my player profile: https://goo.gl/Ve4J1S
►►Top deck text guides: https://goo.gl/NJzUuG
►►DECK LINK►►
Like the channel? Consider becoming a Patreon! Check it out here:
►►https://goo.gl/nh2VUM
I stream LIVE on Facebook 5 days a week here:
►►https://goo.gl/g9pQTC
THANK YOU to my tier 3 PATREONS!! LOVE YOU ALL!
– Noah McDiarmid
– Austin Hoover
– Mark Figueroa
– Richard Parnell
– Tyler Skinner
Social Media-
►►Twitter – @CWA
►►Instagram – Clash_With_Ash
►►Facebook – Clash With Ash Official