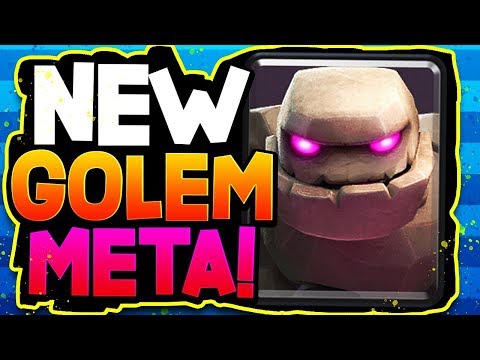 Best New Meta Golem Deck | CWA Mobile Gaming
Subscribe to Me: https://goo.gl/qFh722
Watch, #1 Troll Deck 2020, http://bit.ly/2vxFZL4
Clash Royale's pro tips series continues on CWA Mobile Gaming. Today we'll cover my favorite deck for the new season 9 March, 2020 meta. It's Golem with double dragon and dark prince. It's a no-Legendary deck, although it does have the new Battle Healer. Enjoy!
*Shownotes*
►►FloGeN Twitter – http://bit.ly/39lUHU6
►►FloGeN Stats – http://bit.ly/2ThIU3A
#ClashRoyale #GolemDeck #Beatdown
*Join my discord community!*
►►https://discordapp.com/invite/cwamobilegaming
►►SECOND CHANNEL (Raid Shadow Legends)-
http://bit.ly/36Z4kY6
I'm Proud to be a community partner with Bren Chong!
►► Instagram – https://goo.gl/jEcVu1
►► Twitter – https://goo.gl/c1u5V8
►►Check out my player profile: https://goo.gl/Ve4J1S
►►Top deck text guides: https://goo.gl/NJzUuG
►►DECK LINK►►
Ash wants to share a Clash Royale deck: https://link.clashroyale.com/deck/en?deck=26000068;26000018;26000015;26000027;26000063;26000009;28000015;28000012&id=VPU8G
Like the channel? Consider becoming a Patreon! Check it out here:
►►https://goo.gl/nh2VUM
THANK YOU to my tier 3 PATREONS!! LOVE YOU ALL!
– Noah McDiarmid
– Cameron Stutts
– KeaGirl Gaming
– Jake Haln
– MEC
– 007Goofy
Social Media-
►►Twitter – @CWA
►►Instagram – Clash_With_Ash
►►Facebook – Clash With Ash Official
Business Email – cwa@aftershockmediagroup.com