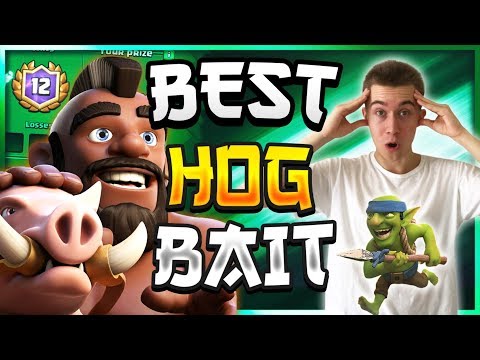 BEST HOG RIDER BAIT DECK! | SirTagCR – Clash Royale
► Subscribe to Me: https://goo.gl/PKrKHx
► Watch Next, Playing Blind Decks: https://youtu.be/ENdyQNZqWMc
In this clash royale let's play, I played the best hog rider bait deck and was dominating in clash royale grand challenge! This hog rider deck has spear goblins, goblin gang, bats, and inferno dragon for zap bait. It is an incredibly fast cycle deck and it will overwhelm opponents easily. Fireball and zap are integral spells in the deck; it is important to remove the opponent's units immediately to ensure extra hog rider hits. This hog rider deck can be used for 12 win grand challenges and for top ladder trophy pushing! It's easily one of the clash royale best decks. The inferno dragon allows you to destroy any beat down push- giant prince and golem are two easy match ups for this deck. Also prince and bridge spam decks will get distracted by the sheer amount of swarm bait units; they should never be able to break through to the tower. Other log and zap bait decks with dark prince can be difficult to beat; however, I showcased how to beat tornado goblin barrel bait in this grand challenge session. That defensive hog rider combination was one of the best pro plays I've done in a while. It stopped the bandit from charging, tanked the princess shots from hitting my bats, and got tower damage, while allowing the bats to get extra hits on the tower too.This hog rider cycle deck is pretty OP; spear goblins really do need a nerf soon. I hope you guys enjoyed my clash royale tips and tricks, good luck in your 12 win grand challenges, and I'll see you in the arena!
Check out the RoyaleAPI deck stats here: https://goo.gl/ttFt44
I stream Mondays, Wednesdays, and Fridays at 6:00PM EST. Stay connected with my social media:
Twitch: https://www.twitch.tv/sirtagcr
Twitter: https://twitter.com/sirtagcr
Instagram: https://www.instagram.com/sirtagcr/