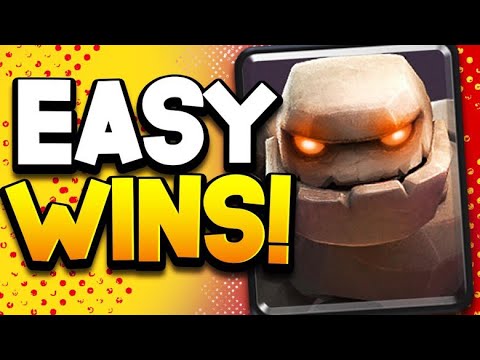 Best New Meta Golem Deck 2019 | CWA Mobile Gaming
Subscribe to Me: https://goo.gl/qFh722
Watch, Undefeated Giant Skeleton Deck, http://bit.ly/2XPtyWU
Clash Royale's pro tips series continues on CWA Mobile Gaming! Today we'll bring Flobby back on with his best new Golem, Cannon Cart, Lumberjack deck for the new meta. This is the mother of all Golem beatdown decks and is SUPER strong and effective. Flobby says that Golem is in the best spot it's been in after inferno tower nerf and cannon cart buff since the OP Night Witch release! Today he'll push top 20 ladder live using it! Enjoy this deck in arena 9, 10, 11, 12, and 13! Good luck!
*Shownotes*
►►Flobby Twitter – https://goo.gl/9g5GF3
►►Flobby Player Profile – https://goo.gl/U3oVsd
►►Flobby YouTube – https://goo.gl/6jJ7wX
►►Flobby Twitch – http://bit.ly/2FQ0sNe
#ClashRoyale #GolemDeck #FlobbyReturns
*Join my discord community!*
►►https://discordapp.com/invite/cwamobilegaming
I stream LIVE on Caffeine 5 days a week here:
►►http://bit.ly/2InCfPJ
I'm Proud to be a community partner with Bren Chong!
►► Instagram – https://goo.gl/jEcVu1
►► Twitter – https://goo.gl/c1u5V8
►►Check out my player profile: https://goo.gl/Ve4J1S
►►Top deck text guides: https://goo.gl/NJzUuG
►►DECK LINK►►
Kick Ash wants to share a Clash Royale deck: https://link.clashroyale.com/deck/en?deck=26000009;26000039;26000015;26000035;26000054;28000015;28000012;28000009&id=VPU8G
Like the channel? Consider becoming a Patreon! Check it out here:
►►https://goo.gl/nh2VUM
THANK YOU to my tier 3 PATREONS!! LOVE YOU ALL!
– Noah McDiarmid
– Austin Hoover
– Mark Figueroa
– Richard Parnell
– Tyler Skinner
Social Media-
►►Twitter – @CWA
►►Instagram – Clash_With_Ash
►►Facebook – Clash With Ash Official
Business Email – cwa@aftershockmediagroup.com